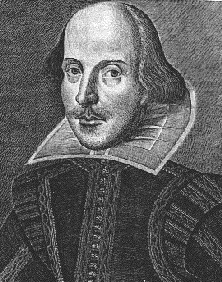 Portrait supposé

Les différents liens ci-contre pointent sur des sites en langue anglaise. Si vous ne maîtrisez pas la langue du grand barde, vous pouvez essayer de me contacter et nous verrons ce que nous pourrons faire ensemble.

Mr. William Shakespeare and the Internet
A rather complete annotated guide to the scholarly Shakespeare resources available on Internet, with a listing of Shakespeare Festivals and several links on other Shakespeare sites.

The Complete Works of William Shakespeare
Un miroir de la version Moby(tm), et un forum de discussion sur Shakespeare et son oeuvre.

the Shakespeare Web
Small site, conceived as an interactive, hypermedia environment dedicated to Shakespeare's plays and other works. Includes a java-based game

Shakespearean Insult Generator
Really funny. You have to try it at least once!
Pour être vue de façon optimale, cette page nécessite l'emploi de JavaScript. Elle a été optimisée pour Opera (>=6), Mozilla (>=1), Netscape (>=4), Internet Explorer(>=5) et est compatible avec Lynx.